Digital Night Vision
Portable Digital Night Vision viewing device. The Digital Technology that allows the product to work in low light is currently used in high end surveillance systems and has now been adapted for use in a hand-held, battery powered device.
Unlike image intensified technology the Digital system can be used in any lighting condition with a distance up to 45 Yards (15 Meters) without damage to the system. Even use in bright sunlight does not harm the system, in fact the system functions normally as a viewing device day or night without constraint.

Utilizes specially manufactured infrared diodes that are focused and tuned to the sensor to allow for maximum distance and clarity in low light applications. The Digital Night Vision surpasses current night vision viewers by allowing the user to easily adapt the unit to video capture devices such as camcorders and VCR units with the use of its RCA video output that is built-in to the device. Can also be powered by auxiliary AC/DC power sources.
The image is displayed on a 2.5" TFT-LCD, the same display that is used in millions of camcorder products worldwide. This high-resolution display allows for single and multiple user viewing without the typical eyestrain of current night vision devices. The Digital Night Vision is the future of personal viewing devices that encompasses an unlimited range of applications for the user.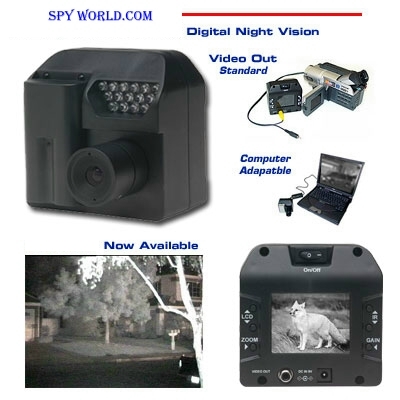 Uses:

• Night Vision Viewing Device
• Personal/Home Security Camera System
• Law Enforcement Applications
• Internet Day/Night Web Camera
• Wireless Video Capture

Features:

• High Resolution Output : 420 TV lines
• High Resolution 2.5" TFT-LCD Display
• Rechargeable Lithium-Ion Battery Power
• Interchangeable Optics
• RCA Video Output : Records High Resolution Video
• Auxiliary Power : AC/DC Power Port
• Unaffected By External Light Sources
•

Distance - 45 Yards (15 Meters)

Specifications
| | |
| --- | --- |
| | |
| Lense | 1X f1.2 |
| Resolution | 420 TV Lines |
| Display | 2.5" LCD |
| Field Of View | 40° |
| Weight | 14 oz. |
| Size | 3.5"x3.5"x2.5" |
| Battery | Lithium Ion Rechargeable |
| Battery Life | 2 hrs. |
| Warranty | 1 Year |
---