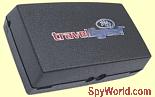 Travel - GPS

Travel GPS, an amazing GPS vehicle tracking device used for monitoring the travel activities of private vehicles, and as an aid in keeping travel records for tax purposes. Travel-GPS is the ultimate in low cost GPS vehicle tracking, featuring the same GPS satellite technology developed and used by the US Department of Defense.

Travel-GPS small size (2" wide x 3.38" long x .98" high) and its light weight (2.8 oz.) make it ideal for concealing inside any vehicle.

Want to know the whereabouts of your teenager? Travel-GPS is designed to be concealed within the vehicle, allowing you to record the complete travel activities of any vehicle...anywhere...anytime. Why engage in the dangerous practice of following a vehicle when you can quickly and easily do it this way?

It can give you proof your suspicions were right... Ever wish you had a tool that could prove your suspicions were valid? Next time you sense suspicious activity, make sure Travel-GPS goes along for the ride. It can track a vehicle to the nearest address, tell how long the vehicle remained at any given destination and provide details of suspicious activities. Why pay a fortune to hire a private investigator when you can be your own "detective" with this Tracking device ?

The unit uses GPS satellite signals to provide extremely accurate positioning, typically between 10 feet and 50 feet of actual vehicle location.

Designed to be concealed within the vehicle, the small size Tracking device is a tiny computer that rides aboard the vehicle telling you the whereabouts of the driver, including the approximate address of each destination, names of streets traveled, how long the vehicle remained at each location AND IF THE DRIVER WAS SPEEDING!

When the vehicle returns home, the hardware unit can easily be removed from the vehicle and downloaded to any Windows® 95/98 or NT computer. Here the travel route can be viewed on your computer screen. A detailed map is built into the included software allowing the unit to display a variety of travel data, including every turn, every stop, the exact time and duration of each stop, mileage and speed.

Travel-GPS
Item 2031-5 ------------------------------ $

Item no longer available on our catalog

d map.