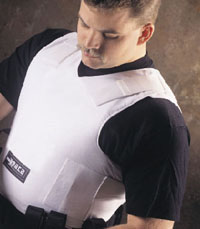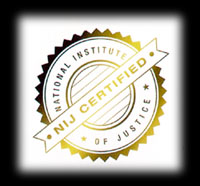 Bullet Proof Vest
Designed and engineered to meet tomorrow's demands today, we introduce GoldStar, which provides superior ballistic performance, maximum comfort and flexibility at one of the lightest densities to date. - Bullet proof Vest -.

One of the most demanding aspects of today's Bullet Proof vest is to be able to provide the utmost in flexibility and comfort without compromising performance.

Our products have met this demand through a unique combination of precision designs, along with the use of GoldFlexTM from AlliedSignal and Kevlar®129 from DuPont.

Our products can fill any law enforcement officer's needs. Concealable, Special Operations, Correctional, Tactical, and a wide range of accessories, are all tested to the fullest to insure top quality ballistic performance. Research and development is performed on site in a ballistic lab - scrutinizing every aspect, from the cutting of materials to the final ballistic testing before ever being sent for N.I.J. certification or leaving the plant to protect you!

From quality assurance, and every stage of production, to the final product, we are commitment to excellence!