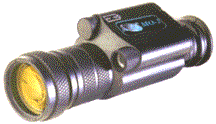 Jaguar Night Scope MO-2

This night vision scope is U.S design , originally built for military use. Powerful 6 element, 90mm 1.2 optical lens system has 3x magnification with 35,000 light gain- all at startling clarity. It has a built in illuminator for clear vision even on the darkest night. Best of all it accepts an adapter :

Item : 2020A (optional at $59) that lets you connect to most 35mm camera or video camcorder.
See more Night Vision Click Here